Deventer: dynamic Hanseatic city by the River IJssel
A city by the river is lively, frivolous, and usually rather exuberant: life is good over here! As if the flowing water provides the city with new energy every day. Perhaps this explains the vitality of Deventer: a lively city with a historic atmosphere, a wonderful place to be.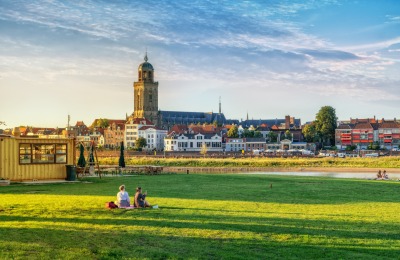 The city is one of the oldest cities in the Netherlands. Be amazed during a city walk and stroll through the picturesque streets. Visit many quirky stores, art galleries and other innovative creative places. Indulge at the countless great spots for food and drink. Deventer is definitely a city that will surprise you. An energetic, unique city with exciting events and a population of more than 100,000.
Whether you are shopping or taking a walk, the city will embrace you with its historic charm. Deventer offers numerous sights to see, such as the old city centre with over 500 listed buildings! A visit to Deventer also means relaxing and spending time at the River IJssel. The ferry will take you to the other side in no time, to end up in the middle of a beautiful nature reserve. In short: a lively city with plenty to enjoy.
When in Deventer... Don't miss out one of these tips!
Deventer City Walk
Discover the inner city on a fascinating city walk. This will take you to special places, off the beaten track. Read more
A day of shopping
Besides discovering the history of the city, exploring the shopping area is also a must-do! The city has a large number of unique and quirky shops, fine restaurants and bars for food and beverage. Read more
Food and Drink
Do you need to recover from all the impressions of Deventer? Recharge your batteries at one of the trendy coffee places, cosy lunchrooms, grand cafes or restaurants. Read more
Typically Deventer: Deventer Cake Shop!
When you say Deventer, you say cake. Deventer and cake are interconnected. The people of Deventer have been showing their hospitality with Deventer Cake for more than six centuries. Buy and taste your Deventer Cake at the Deventer Cake Shop on the Brink, with authentic coffee and tea service. Read more
What will you be doing in Deventer?
Do you like culture and do you want to visit a museum or event? Or would you rather do something active? Deventer offers numerous sights, vibrant events and adventurous activities. Read more
Around Deventer
Combine your visit to the city with a visit to the surrounding area. Deventer is located at the intersection of the regions of Salland, Veluwe, Twente and the Achterhoek. Various other medieval Hanseatic cities are easy to reach from Deventer as well, by bicycle, boat, train or car. Because of its location by the River IJssel and the unique rural environment, Deventer offers an enormous amount of possibilities for beautiful walking and cycling routes. Read more
Overnight Stay
After a day out and about, it is nice to relax and wind down. And after a relaxing night you can enjoy this wonderful city again for another day. In short: make your visit a multi-day stay! Read more